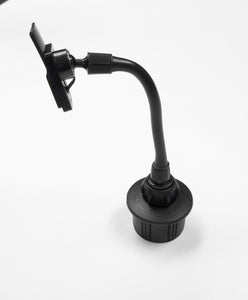 ake sure your Garmin handheld is easily accessible and in plain sight at all times! 
This handy cup-mount unit fits into any standard vehicle cup holder and includes a mount clip that is compatible with the Astro 320, Astro 430, Alpha 100, or Alpha 200.  It features a 9-1/2" bendable, flexible arm so you can adjust your Garmin to the perfect position while hunting from your truck or while driving.
The adjustable cup insert features a turnable knob that adjusts the cup insert from 2-1/2 inches to 3-3/4" in diameter and will fit virtually any vehicle's standard cup holders.
The ball-mount tip fits many Garmin products and the included MountClip is compatible with the Astro 320, Astro 430, and Alpha 100.  Just slide the MountClip onto the back of your handheld for a safe and secure mount. The MountClip also accommodates your AstroCover or AlphaCover, so there's no need to remove your cover when mounting your handheld in your vehicle.
As an added feature, this Cup Mount also accommodates the DriveTrack 70 with the purchase of an optional MountClip-DT (sold separately).  This additional MountClip allows you to easily switch between your tracking system handheld (Astro or Alpha) and your DriveTrack. 
Made from sturdy, heavy-duty materials that are built to hold up to your roughest hunting conditions.
Features
Inlcuded MountClip fits Astro 320, Astro 430, Alpha 100 or Alpha 200
Optional MountClip-DT fits the Garmin DriveTrack 70 (sold separately)
Arm measures approximately 9.5 inches from the ball tip end to the top of the cup insert
Arm is fully bendable and flexible, but stiff enough to maintains its position once you set it
Cup insert adjusts from approximately 2.5 inches to 3.75 inches at fits most standard vehicle cup holders
Quality materials for long-lasting performance